China & Taiwan Journals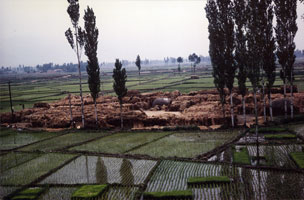 China Pennywalk
China Pennywalk is based on journals of the first three trips to China. The links below lead to excerpts from the larger document. The entire document is available in Adobe Acrobat PDF format. Viewing and printing the document requires Adobe Reader, available for free download at http://www.adobe.com/.
Excerpts from the First Three Trips to China
July 7 to August 24, 1985
May 18 to June 28, 1987
February 18 to March 20, 1991
---
The Fourth Trip to China - 1998
Taiwan - March 2000
Photographs from Taipei and Hu Wei
China 2002
Photographs
[top]
---
[Rosenblatt Gallery] [Suzanne home page] [Writing portfolio] [Travel journals]
[Visual Art portfolio] [Feedback]
Copyright © 2002 Suzanne Rosenblatt. All rights reserved.
( No pathinfo hits since 14 June 2002)