Neighborhoods
Click any of the thumbnail images below to view a larger image.
Sometimes I wish I still had a dog to walk in the early evening. I used to look up from the street at the houses lit from within and think about the people's lives.
While I was sculpting these houses, a friend of mine died and I remember consoling his wife on the phone. That experience became part of the houses. Walking by windows at night you can see how life is only a moment in time.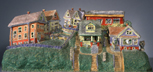 Imperial Motors is a walk-through experience, like you're walking through a funhouse, and at the same time, it's a garage. I dedicated Imperial Motors to my father. It had something to do with going to garages with my dad and sitting around and waiting.

Laundry

Bahr's Furniture
Toledo, Ohio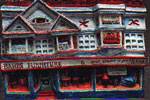 [top]
---
[Rosenblatt Gallery] [Adolph home page] [portfolio]
[an error occurred while processing this directive] hits since 2 June 2002
Copyright © 2002 Suzanne Rosenblatt. All rights reserved.