The Rosenblatts: A Family Exhibition
June 30 - August 8, 2004
Sponsored by the Friends of Charles Allis Art Museum
Opening Reception: Wednesday, June 30, 5:30-8:30 PM
Two generations of a single Milwaukee Family are represented in The Rosenblatts: A Family Exhibition. Seven artists working in several different media will be featured in an exhibition that consists primarily of paintings, sculptures, drawings and poems from the parents Adolph and Suzanne Rosenblatt and their children plus their spouses: Sarah Rosenblatt, Eli Rosenblatt, Joshua Rosenblatt, Craig Eli Stone and Pauline Rosenblatt.
View snapshots of the opening:
Opening reception photographs by Kathy A. Graff, http://kgraff.net/
Note: The photos are in a slide show format and require a browser capable of handling frames.
Gallery Night Performance: Friday July 23, 7 PM
Verse and Reverse: Two Generations
Presented by Sarah Rosenblatt, Craig Eli Stone & Suzanne Rosenblatt.
The passage of time, the cyclical nature of life, the subtleties and quirks of existence, these are all recurrent themes that Suzanne and Sarah Rosenblatt and Sarah's husband, Craig Eli Stone, put into words, often with a beat or a grace note.
Museum hours: Wednesday through Sunday 1 to 5 pm
Museum Admission: $5 Adults • $3 Seniors and Students • FREE Members and Children
Information: 414-278-8295 • www.cavtmuseums.org
Milwaukee County War Memorial, Inc.
Charles Allis Museum
1801 North Prospect Avenue
Milwaukee WI 53202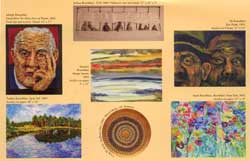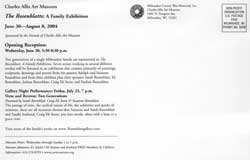 Read James Auer's review Art exhibit is a local family affair, JS Online, July 27, 2004.
Andrea Waxman's review from The Wisconsin Jewish Chronicle
[Rosenblatt Gallery home page] [Family Shows] [top]
Copyright © 2004 Suzanne Rosenblatt. All rights reserved.
( No pathinfo hits since 12 June 2004)